Instagram's platform has also recently seen a decline in the organic reach of Instagram posts, so knowing what is the best time to post on Instagram is very important to achieve the best possible organic reach.
In this post, I'll show you three ways to do this, which will help you easily determine when to post on Instagram to get the most organic reach without running paid Instagram ads.
If you're wondering when to post to Facebook to get the biggest reach, we have a separate post for that too. In this article, we'll just focus on finding the most ideal time to share your Instagram posts.
3 ways to decide when should you post on Instagram
As mentioned above, there are three methods to determine, in the most accurate and data-driven way possible, when to share IG posts on your Instagram business profile:
Based on industry research that has aggregated data from thousands of Instagram accounts and the performance of their posts to determine when you should post on Instagram.
Based on the analytical data and reports of our own Instagram business account, we can see when the performance of our Instagram posts and see when is the best to post on Instagram
Based on the socio-cultural characteristics of our users, customers and target groups.
In the following mini-chapters, I will go through these options one by one.
It's important to add that it is of course important to post when most of your users are online and active on Instagram.
At the same time, the most important thing is that the content we share on Instagram is valuable to our users and to those who are not yet followers of the profile. It's always the quality of the content that will determine the success of our Insta posts, posting at the right time will only help to get the post to as many people as possible.
Best time to post on social media according to industry research
If you're new to Instagram, it's worth looking at the research that has looked at a lot of Instagram accounts and when their posts reached the highest engagement.
Sproutsocial's research looked at a lot of Instagram accounts in different industries and niches and found the following: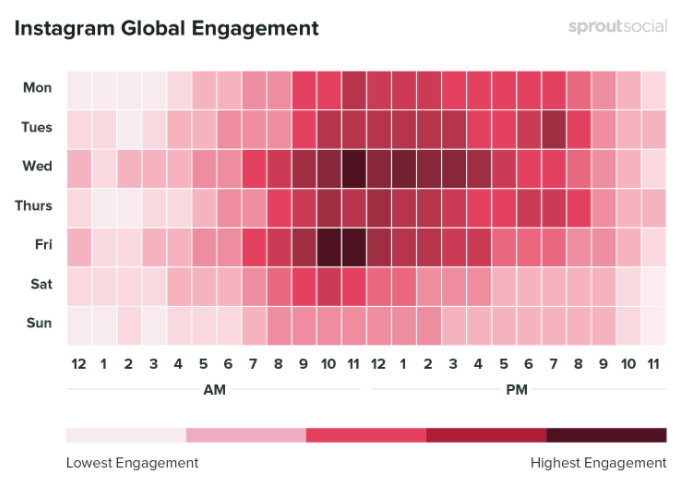 As you can see in the figure above, they found that the best times to post for the Instagram accounts were
absolute best times: Wednesday 11 am and Friday 10 am to 12 pm
the best day to post is clearly Wednesday,
and the worst day for IG post engagement is Sunday.
If we want to be a bit more general about when to post on Instagram for the best organic reach, we can say that it's definitely between 9 am and 4 pm on weekdays, at least according to this Sproutsocial research.
So you could also say that you should avoid posting on weekends and evenings because usually there is much less engagement then, even if people see the content, there is much less chance that they will comment, like it, which will reduce the organic reach of the post
Insights of our Instagram business account
If you've been sharing Instagram posts on your business page for a while, the best way to determine when it's best to post to Instagram is to analyse your own Instagram post data.
You can do this in the following way:
Open the profile of the relevant Instagram business account.
Click on the Insights tab.
Here you will now see an overview of the main data of your Instagram account's performance. Here, under the Overview section, if you click on Reach, you will see what kind of reach our Instagram profile has had.
Finally, if you scroll down here, as you can see here,e you have a separate option to analyze the most popular Instagram posts, stories or IGTV videos.
As you can see, we can rank our most successful Instagram posts, videos, etc. not only by reach, likes, but also by link clicks.
The Instagram Insights analytics interface shows a lot of data that allows us to determine when we need to post in order to get the highest organic reach and engagement to our Instagram posts.
When to post on Instagram – based on the knowledge of your target audience
If you have a brand new Instagram business profile, so you can't rely on your own Instagram Insights data yet, you can still at least rely on your own common knowledge to determine what is the best time to post on social media.
Hopefully, we know the target audience of our business or brand and have some sort of hypothesis about who these people are.
If you want to reach young people or university students, for example, don't be so afraid of posting in the evening, but for early morning posts, you can probably expect less engagement.
If you are targeting middle-aged people with children, you should probably avoid evening hours and weekends, and post during working hours, when they are more likely to have time to like, comment, etc.
Best time to post on Instagram – According to Hootsuite
Here are some ideas that you can check out from Hootsuite on what is the best to post on Instagram: