TubeBuddy is one of the best YouTube keyword research and optimization tools that you can use to gain more YouTube views and get more YouTube subscribers. But how much do TubeBuddy premium plans cost and what do you get for them?
In this TubeBuddy tutorial, we are going to explain everything you have to know about the TubeBuddy pricing, the various paid TubeBuddy packages and what features you will have access and many more.
TubeBuddy Pricing Explained
Currently, TubeBuddy has four plans you can subscribe to:
Free TubeBuddy basic plan: 0 USD
TubeBuddy Pro plan: Starting at $9 per month
TubeBuddy Boost plan: Starting at $19 per month
TubeBuddy Legend plan: Starting at $49 per month
As you can see there is quite a difference between the pricing of TubeBuddy subscriptions.
You can start using some paid features just by paying 9 USD per month but to get the most out of TubeBuddy, you have to buy the ultimate Legend plan for $49 per month.
We also have an exclusive 30-day free trial offer for the Legend plan, that you can claim here:
You can also try TubeBuddy for free as TubeBuddy is free to download and you will have limited access to some very useful TubeBuddy features and tools.
If you want to learn more about the TubeBuddy basic plan that is free, check out this article on it:
Also, TubeBuddy regularly runs sales promotions where you can get TubeBuddy for a significantly lower price.
 So the time when I wrote this article, they ran a summer sales, where you can purchase premium TubeBuddy plans for a significantly reduced price: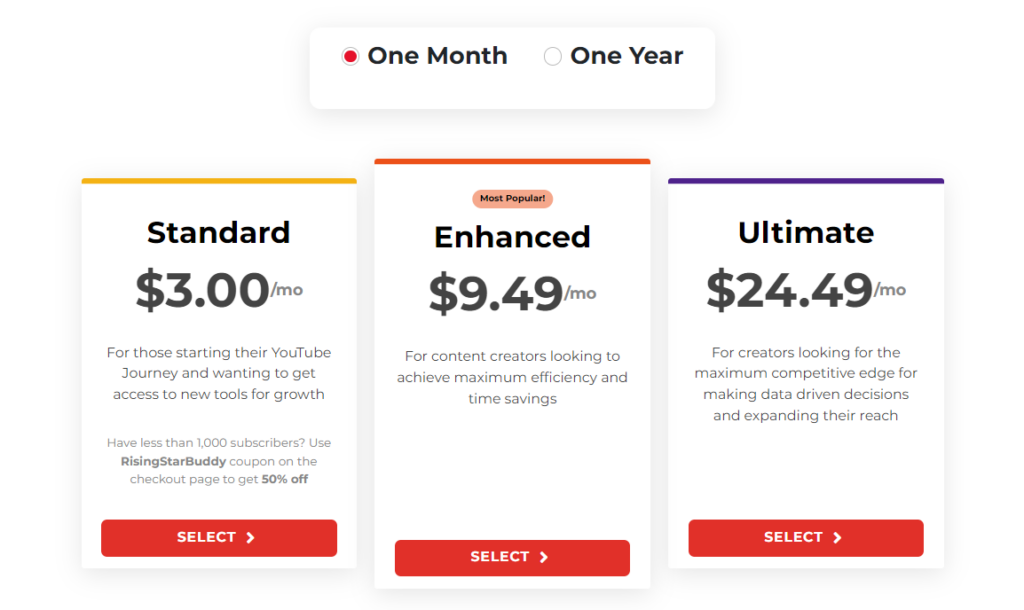 How much does TubeBuddy Pro Cost and what do you get for it?
If you want to take advantage of the great tools TubeBuddy provides, you have to at least purchase the TubeBuddy subscription that has a pricing of $7.2 USD per month if you purchase the plan for an entire year.
However, if you want to purchase a monthly TubeBuddy pro plan, you have to pay $9 monthly but it is still relatively cheap compared to the features it will provide you to get more views on YouTube.
As you can see, you can save 22 USD annually if you purchase an annual subscription of TubeBuddy Pro.
But what do you get if you buy a TubeBuddy Pro subscription?
Here is a list of features list you if you are on the TubeBuddy pro plan:
everything in the TubeBuddy basic plan, plus
Best Practice Audit
SEO Studio
Search Positions
If you want to learn more about these features and how you can use them to grow your YouTube channel, check out these tutorials:
TubeBuddy Review
How to TubeBuddy for YouTube keyword research
How to get more views with TubeBuddy?
TubeBuddy Legend Pricing and Features
To get the most value out of TubeBuddy features, you have to purchase a TubeBuddy Legend subscription.
The TubeBuddy Legend plan is a little bit more expensive but is still not a big investment if you are using YouTube to get more leads, sales or more awareness for your brand/company.
You can get the TubeBuddy Legend plan for a $39.2 monthly price, but then you have to purchase an annual subscription.
If you want to try out the monthly Legend plan, the price is $49 per month which is still quite affordable for a serious creator.
You will get the all premium features with the TubeBuddy Legend plan:
everything on TubeBuddy Pro and Basic plan, plus
Opportunity Finder
Bulk Copy Cards
Bulk Copy End Screen
Bulk Delete Cards
Bulk Delete End Screen
Bulk Find, Replace & Append
Bulk Thumbnail Overlays
Bulk Update Cards
Bulk Update End Screens
Demonetization Double-Check
Auto Translator
Search Rank Tracking
Tag Translator
Video A/B Tests
Channel Access
Click Magnet
Competitor Scorecard
Competitor Upload Alerts
Export Comments
Retention Analyzer
If you want to try out these premium features as well, claim our exclusive free trial here:
If you want to learn more about what we think about these paid TubeBuddy features, check out our review here:
TubeBuddy Review (Tobepublished)
Is TubeBuddy free?
TubeBuddy has a free plan that provides limited access to certain TubeBuddy features. If you want to learn more about the free basic TubeBuddy plan, check this article:
Is there a discount on TubeBuddy prices?
Yes, as we have shown above TubeBuddy regularly runs promotional offers where they give up to 50-75% discount on their plans.
If you don't want to miss any of the TubeBuddy deals, subscribe to our newsletter and we will let you know when you can save money on TubeBuddy plans.
TubeBuddy Pricing vs VidIQ pricing
The main competitor to TubeBuddy is VidIQ. We have a separate article, where we compare the TubeBuddy vs VidIQ and give you our honest opinion on which YouTube tool we prefer.
In terms of pricing, VidIQ tends to be a bit more expensive, so if the price is the most important for you, then TubeBuddy is the better alternative for you. If you want to learn more about VidIQ, check out our VidIQ review here:
VidIQ Review (Tobepublished)