Facebook Website Custom Audiences are the most frequently used custom audience targeting types on Facebook. Without them, you wouldn't be able to use the most basic (but sometimes also the most powerful) type of targeting options on Facebook like retargeting your website visitor or making Lookalike Audiences from your recent buyers to find new potential customers that you can target.
In this tutorial, we will show you step by step how you can create Website Custom Audiences from Facebook Pixel data from start to finish. So keep reading, if you want to see the detailed instructions.
If you want to get a general overview of all types of Facebook Custom Audiences and how you can leverage Facebook Custom Audiences, check out our beginner guide on Facebook Custom Audiences.
How to create Facebook Website Custom Audience from Facebook Pixel data?
The outline of the process looks like the following:
Step 1: Create a Business Manager and Ad account if you haven't done so
Step 2.: Create a Facebook Pixel, add the base code to your website, and customize the Pixel code to record Custom and Standard Events preferably with as many parameters as you are able to provide.
Step 3: Create a Website Custom Audience from Facebook Pixel data
+1 Step: Create retargeting and lookalike audiences from your website custom audience
Hopefully, you can already check Step 1 and Step 2 as 'Done', if not, click on the links above and you will get help on how you can do each of those steps.
In the rest of this guide, we will focus on the process of how to create website custom audiences from Facebook Pixel data.
Create a Website Custom Audience from Facebook Pixel Data
So once you have your Facebook Pixel and relevant Pixel Events set up, you can start setting up your website custom audiences.
Go to the

Audiences

page of your Ad Account

In the upper left corner, click on Create Audience then Custom Audience

3. As the Audience Source, click on Website, a a new window will pop up where you can define your website custom audience and then name it.
4. First, you have to choose how Facebook should interpret your conditions. You can choose ANY or ALL.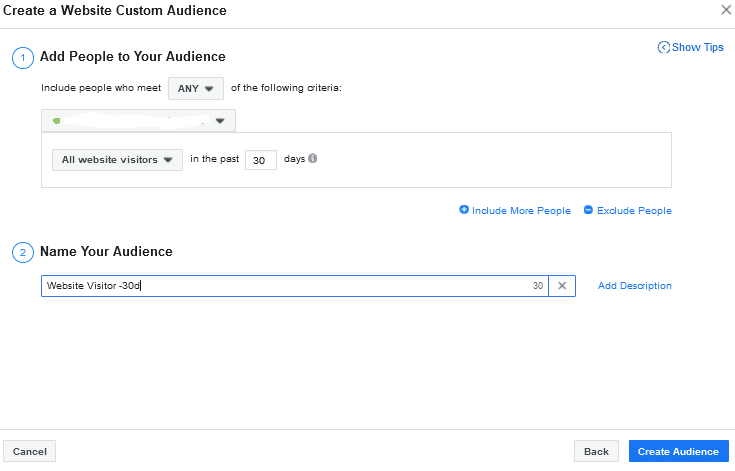 Include ANY People of the following criteria will work as an OR condition, so all people who you add to any of the criteria will be included or excluded from the custom audience.
Include ALL People of the following criteria will work as an AND condition, so just those people will be added to the Facebook custom audience who meet ALL of your conditions you have defined.
If this is not clear, you can also hover over the information icon and Facebook will thoroughly explain the difference with an example.
5. As a next step, if you have multiple Facebook Pixel set up for your Facebook, make sure to choose the right one.
6. In the next row, you will be able to choose the Standard Events or conditions related to website visits and the number of days you want to people to remain in the audience. 
You can keep people in the audience up to 180 days. As these Facebook Pixel event conditions are the most crucial we will explain the condition and criteria you can apply  in most details in the next paragraphs
7. Once you defined a condition you can click on 'Include more people' or Exclude People' to add more people or make the Custom Audience more targeted
8. Once you define all your conditions the last thing you have to do is to give a descriptive name to the Custom Audience and you can also add an option Description. 
9. Then make sure the conditions are set up right and click on Create Audience.
Your Website Custom Audience is created, now you can go on and make a Lookalike Audience from it or start a Facebook Retargeting campaign targeting this new Website Custom Audience.
Create Conditions From Facebook Pixel Event data
So let's see what kind of options you have for setting up conditions from our Facebook Pixel data. The conditions you will see here will depend on the Pixel Event you have set up.
If you only installed the base Pixel code on your website, you will only see four options: All website visitors, People who visited specific web pages, Visitor by time spent and Page View.
First, we will explain these four conditions then we will cover the conditions and criteria you can use for Standard Events.
All website visitors
This doesn't need a lot of explanation, as this option won't apply any condition, it will include anyone in the Custom Audience who were on your website if the user or an ad blocker didn't block the Pixel firing. 
As with all other website custom audience criteria options, you can set the number of days from 1 to 180 for the users to remain in the audience after they visited the website.
People who visited specific web pages
If you choose this custom audience criteria, you can define the Custom Audience by the URL rule. For instance, if you have an e-commerce website, and you can't set up the ViewContent event, you could also target product page visitors if product pages contain a unique URL element such as 'product'.
Visitors by time spent
This can be also applied to all website visitors or to only certain URLs of your website but the extra thing here is that you can segment your top visitors by time, so the top 5%, 10% or 25% of users by time spent on the website or these specific pages. 
PageView
This is similar to All Website Visitor conditions, but you have more conditions to segment the custom audience. So you can refine the audience by segmenting the users by: 
device type (mobile or desktop, and even iOS and Android), 

Frequency: which means the number of the PageViews, you can set the typical criteria here, like 'greater, than', 'equal to', 'less than' etc. People who bounce off from your website and only have one page view are less likely to be really interested in whatever you offer so you could exclude them from your retargeting audiences.

URL: you can specify the URL the visitors viewed, so you can only target product pages or anything similar like that.
Create Conditions from Facebook Standard and Custom Events
If you have more than just the Pixel Base code and have Standard or Custom Events set up correctly, you have the option to use these as a way to segment the users who completed a certain user action on the website.
As there are 17 Standard Events, we will only cover the two most frequently used and maybe most important Standard Events. Hopefully, the examples below will give you the general idea of how you should segment users based on other Standard Events.
ViewContent event criteria
As you most likely know the ViewContent event should be fired when an important page is viewed on your website. It can be a product page for an e-commerce business or a service page for a service-based business.
The ViewContent Event supports quite a few parameters, so you could refine the website custom audience creation based on the content_ids, content_category, content_name, content_type, contents, currency and value.
So let's say you have an e-commerce website and you want to create a custom audience from people who only visited product pages where the content category is shoes as you are running a huge sales to all the shoes you sell, so in your FB ads campaign, you would only want to retarget them with this offer.
In this case, you would create a Facebook Custom Audience from ViewContent event where the content_category equals to 'Shoes' and would be able to retarget customers who viewed 'Shoes' related product pages at least once.
You also have more options to segment Event data to create custom audiences as we will show in the next paragraph with the Purchase event.
Purchase Standard Event criteria
For obvious reasons, the Purchase Event is the most essential Standard Events for a lot of websites. You can specify the following parameters to segment your pool of purchasers even more: content_ids, content_name, content_type, contents, currency, num_items, value.
However, you also have a more advanced way of segmenting the Event data. You can create custom audiences from people who purchased at least 2 times, or from purchases where the minimum order value is higher than 300 USD. There are many options to choose from, so you should create the Event (if you don't have it already) and then experiment with the Purchase event data segmentation to create website custom audiences.
Creating Custom Audience from Custom Events
Custom Events as the name imply are completely customized Facebook Pixel Events, it is difficult to provide a general example for them.
However, the way they work is similar to how Standard Events can be customized. You can segment the Custom Events if you have provided object properties.
Next steps after creating a Website Custom Audience
Once you set up a website custom audience you can start creating Lookalike Audiences from them or use them as retargeting audiences to convert your most likely buyers based on Standard Events.
Use Website custom audience as retargeting audiences
Once a website Custom Audience is set up, you can use it in the custom audience targeting option in the ad set setup section during your Facebook campaign creation process. 
It might take for Facebook a couple of minutes or hours to populate a new website custom audience with the right users, but that shouldn't prevent you from setting up the retargeting campaign you want.
Don't forget that you can also combine various Facebook Custom audiences in the ad set level targeting. So if you want to make sure that you exclude all your past buyers in the last 30 days, you can also add a customer list from your backend system besides the Facebook Pixel's Purchasers dataset.
Use Website Custom Audience to create Lookalike Audience
Besides creating retargeting audiences, Pixel data is also very valuable as you can go and create Lookalike Audiences from your Website Custom Audiences. 
This is one of the most powerful targeting options as Facebook will use the data of people in the custom audience and find the top 1-10% all Facebook users in that country that show the most similar interests, behavior and demographic characteristics to your sources audience.
If you want to learn more about this Facebook ad feature, be sure to check out our beginner guide about Facebook Lookalike audiences.
Frequently Asked Questions – Facebook Website Custom Audience
From which Kind of Source can you make a Website Custom Audience?
You can make website custom audiences by leveraging Facebook Pixel's Standard and Custom Events and segment them using URL and Event parameters rules. However, you can't make a custom audience from users who converted on a specific Custom Conversion.
What is the maximum number of days a user can remain in your website custom audience?
You can keep users from dropping out from your website custom audience for 180 days. Obviously, if the users completed a specific user action again that defines your custom audience then the day count will go back to day 0 and the user will remain the the custom audience for at least 180 day.
What is the minimum size of a Website Custom Audience?
The minimum size for a Website Custom Audience created from Pixel data is 20 users.