Having the Facebook Pixel installed on your website is the foundation of running successful Facebook marketing campaigns. In this short guide, we are going to show you how to create Facebook Pixel step by step, if you haven't generated a Facebook Pixel code before.
We are also going to share how does a Facebook Pixel Code and ID looks like, what to do after creating the Pixel Code, and at the end of the article, we are also going to answer the most frequently asked questions related to creating a Facebook Pixel code.
How to create Facebook Pixel code and ID?
Creating a Facebook Pixel code is actually fairly easy and straightforward. Here is how the p step process looks like:
If you don't have a Facebook Business Manager Account yet, create one
Go to Business Settings in your Facebook Business Manager
Select the Business where you want to create the new Facebook Pixel
Then on the left sidebar, click on Events Manager or just click on this link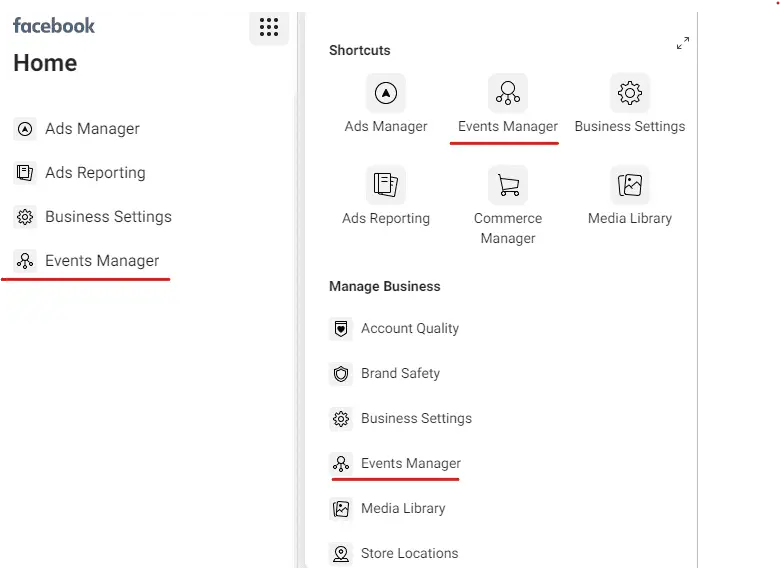 Click on Connect Data Sources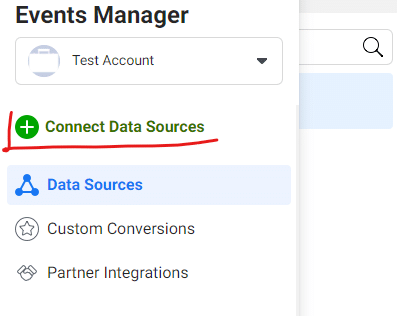 Out of the three data source types, select Web and click on Get Started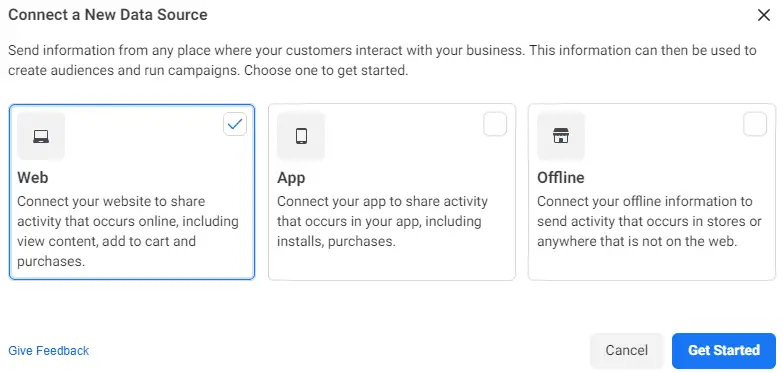 Next, choose Facebook Pixel on the right as the Connection method and click on Connect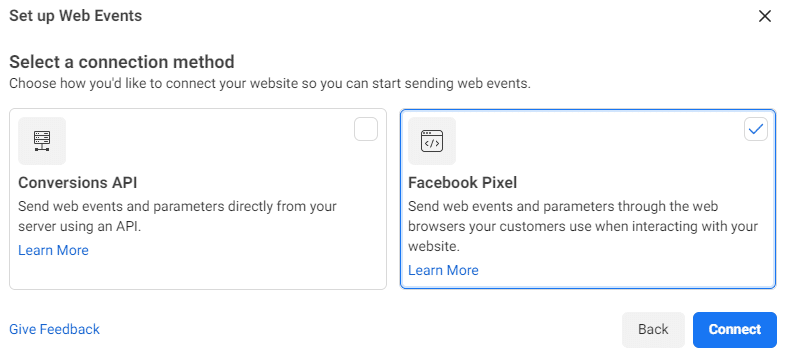 In the next window, add a name of the Facebook Pixel and click Continue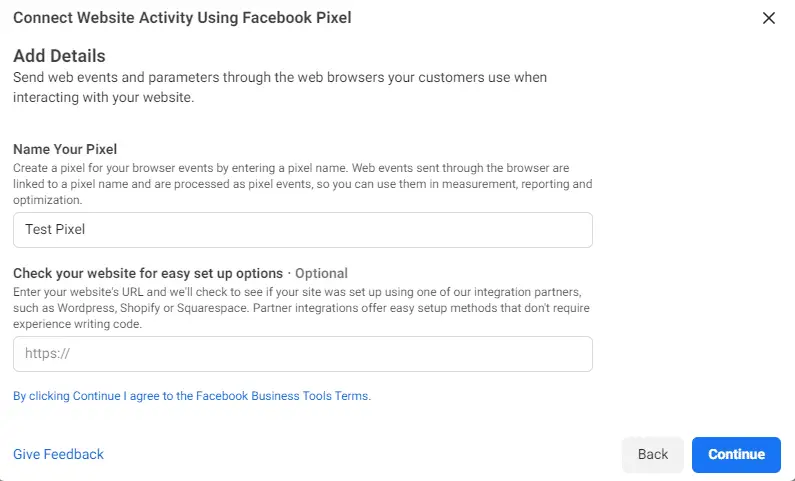 The new Facebook Pixel has been created, you can no go on now and install it on your website.
If you want to have a look at the Pixel, in the next window you can choose Manually add pixel code to the website, so you can copy the base code of your website.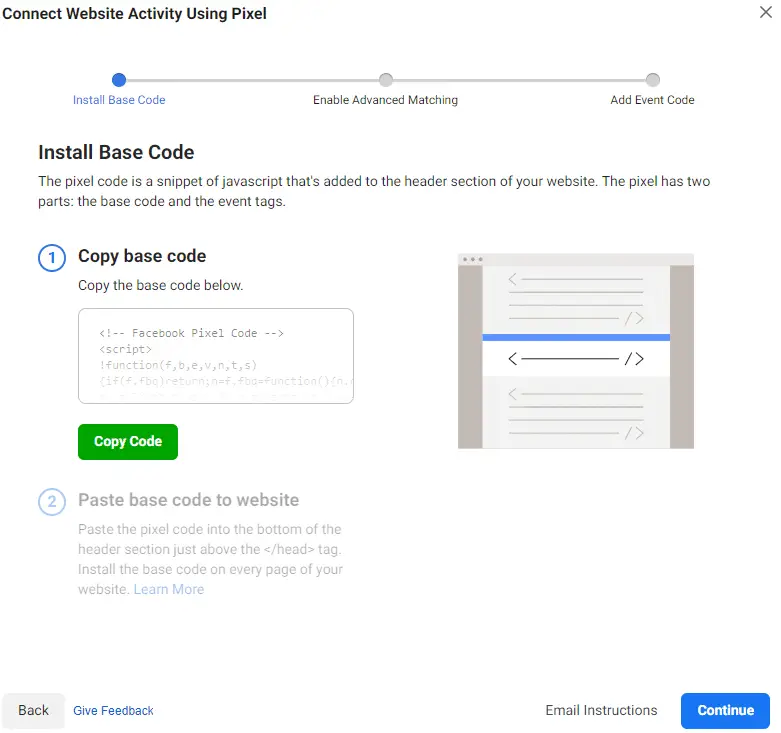 If you also want to see this process in a video, check out this youtube video that will explain in the first section of the video how to create a Facebook Pixel in Facebook Business Manager:
Facebook Pixel Code Example
A Facebook Pixel code example looks like this:
Some explanation for this example of the Facebook Pixel code:
The blue number 1 shows that you have to place the Facebook Pixel code to the head section of your website
The number 2 is showing the base code of the Pixel. This is the code you get when you create the Facebook Pixel to your website
The number 3 shows in this example an Add to cart standard Facebook Pixel event.
Facebook Pixel ID
Just so you know what the Facebook Pixel code looks like, it is a 15 digit number that doesn't contain any text character.
You can see your Facebook Pixel ID in the middle of the Base code, in the line where the Facebook Pixel is initialized:
fbq('init', '675015516698153')
You can find your Pixel ID also really easy by installing the Facebook Pixel Helper Chrome extension that will list out the Facebook Pixels detected on your website and also you can easily see and copy the ID of the Facebook Pixels: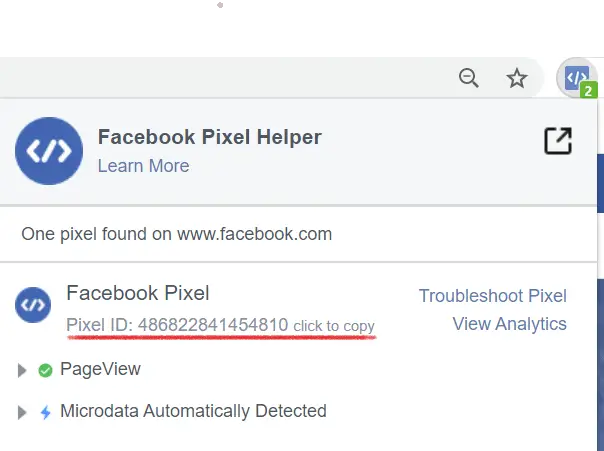 What to do after creating the Facebook Pixel?
Once you created a new Facebook Pixel, you have to install it on your website so it can start sending data about your users to Facebook. There are multiple ways to do it either with partner integration if you are using a popular e-commerce platform or CMS or you can do it manually with Google Tag Manager.
Once you have installed the Facebook Pixel, you have to set up the Standard and Custom Events that are the most important user interactions that happen on your websites so you can use them as conversion events when you are optimizing for website conversions in your Facebook ad campaigns.
Then once you set up the most important Facebook Pixel events, you can also start creating custom audiences from users that performed these events. These custom audiences will be the foundations of your Facebook retargeting and lookalike audience campaigns.
Create more than one Facebook Pixel
You can also generate more than 1 Facebook Pixel if you wish to do so for testing or other business purposes. You can install as many Facebook Pixel on your website as you wish to do.
Although keep in mind that currently, it is not possible to delete a Facebook Pixel so once it is created it will appear in your Events Manager.
Frequently Asked Questions – How to get the Facebook Pixel
Can you create and install multiple Facebook pixels for your website?
Yes, it is possible to create multiple Facebook Pixel codes and install all of them on your website.
How many Facebook Pixels you can create in your Business Manager account?
You can create up to 100 Facebook Pixels in a Facebook Business Manager account.
How does a Facebook Pixel ID look like?
The Facebook Pixel ID is a number with 15 digits and doesn't contain any text character. A Facebook Pixel ID looks like this: 675015516698153 . You can find in the middle of the base code where the Facebook Pixel is initialized: fbq('init', '675015516698153')