When you start advertising on Facebook, it can be a little bit confusing how payment for Facebook ads works.
In this Facebook ads tutorial, we are going to explain when you will pay and how you can pay for your Facebook ads fees.
Without further ado, let's dive in.
How to pay for Facebook ads?
There are basically three major ways how you can pay for Facebook ads:
automatic payments
manual payments
monthly invoicing
All of them have advantages and disadvantages, you have to decide for yourself which of these you want to use to pay for your Facebook ads costs.
To make the decision easier, let us explain what are the main differences between these payment methods.
Automatic payments of Facebook ad fees
By default, your Facebook ad account will use automatic payments for paying Facebook ads costs.
This means that you will get charged when you reach the billing or the payment threshold of your Facebook Ad account.
When you have just created a new Facebook Ad Account, automatic payments of your Facebook ad charges can be quite annoying, as the payment threshold will be set by Facebook and it will be set to a really low level.
And you won't be able to increase the automatic payment threshold level, just after you have spent a certain amount of money with this Facebook ad account.
Manual payments for Facebook ads charges
If you prefer a manual payment method for your Facebook ad account, you can also set up a Facebook ad account that is using a manual payment method to pay for Facebook ads fees.
When you set up manual payments, you have to manually add funds to a prepaid balance before your ads run. Facebook will then deduct from the funds you've added as your ads run.
Once you set up a Facebook ad account with automatic payments, you can't change the payment method to manual payments and vice versa. If you want to pay manually, you have to create a dedicated manual payment ad account.
Here you can find more information on how to create a Facebook ad account where you can use manual payments:
https://www.facebook.com/business/help/428891787289529
Monthly invoicing for your Facebook ads charges
Last but not least, you can also apply for monthly invoicing if that is how you want to pay for your Facebook ads fees.
This is an available option only for established advertisers who have already been using Facebook ads for a while.
So there are some restrictions on who can apply for monthly invoicing. You have to spend a minimum of $10,000 USD per month for the last 3 months to be able to apply for monthly invoicing.
You can find more info on Facebook's monthly invoicing here.
When do you have to pay for Facebook ads?
When you have to pay for your Facebook ads of course depends on how you pay for your ads.
If you use automatic payments for your Facebook ads, then you will pay when you reach the payment threshold.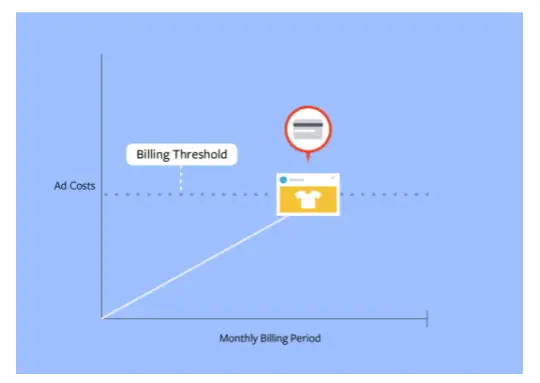 If you want to learn more about Facebook Ads Payment Threshold and how you can change the threshold, click here:
Facebook Ads Payment Threshold (to be published)
If you use manual payments, you can pay basically any time you want, but your ads will pause immediately if your balance reaches zero. So make sure to always make the manual payments in time.
Last but not least, if you use monthly invoicing, you have to pay only once per month when the monthly invoice is issued. And you even get 30 days usually to pay for the monthly Facebook ads invoice.