Facebook has rolled out a new feature, called Facebook Group Community Awards that lets regular Facebook group members give awards to helpful Facebook group commenters.
In this Facebook group tutorial, we are going to explain to your what Facebook group awards are and how you can give awards to fellow group members or turn these on for your own Facebook group.
What are Facebook Group Community Awards?
Facebook Group Community Awards is a new feature that allows regular Facebook group members to acknowledge positive contributors in a group by giving these awards to active or insightful Facebook group members.
These Community Awards are similar to Facebook group badges (new member, rising star, etc.) or to the Facebook Group Expert badge. However, unlike those, these Facebook group community awards are given not by the Facebook group admin or by the algorithm but are awarded by fellow group members.
They are pretty similar to what Reddit forums have.
Here you can check out a video summary of the new Facebook group badges feature:
List of Facebook group Awards
Currently, the following is a list of Facebook group community awards members can give out:
Insightful Community Award

You can award Facebook group commenters who you think added an insightful Facebook comment.
Uplifting Community Award

The Uplifting Community Award should be awarded to contributors who are very encouraging.
Informative Community Award

The Informative Community Award can be sent to members who share something very informative.
Fun Community Award

If you read a funny comment in the Facebook group, now you can also give Fun Community awards to these people.
Relevant Community Award
If you think there is a lot of irrelevant comments under a Facebook group post, you can easily highlight the relevant comments by awarding them with a Relevant Community Awards.
Positive Vibes Community Award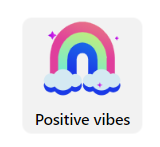 Positive Vibes Community Awards is obviously for Facebook comments who try to keep the vibe and the atmosphere positive and encouraging in the Facebook group.
How to send Facebook Group Awards?
Once the Facebook group awards are available in a Facebook group you are a member of, it is really easy to give them to the fellow Facebook group members.
Here is how to send Facebook Community Awards:
Go to the Facebook group comment you want to award.
Click on the 'Award' button under the comment, next to the like button.
Select the Community Award you want to give to the person.
Click on 'Send'.
Can't add Community Awards in my Facebook group
Currently, this Facebook group community award is a beta feature that hasn't been rolled out for all Facebook groups. So, you can't really turn this  on for your Facebook group, even if you are the Facebook group admin. Facebook will roll out for your group eventually.
However, once it has been rolled out to your Facebook group, you would be able to modify its settings or turn the community awards off.
There is also a fixed number of community awards you personally can send  within a specific time period. However, this might change in the future, as this is just a beta feature.