Finding a top professional that matches your business needs is a hard task. Especially when the employment platform you use for your search, LinkedIn has over 700 million registered professionals.
This LinkedIn recruiting tutorial is all about LinkedIn Recruiter: how much does LinkedIn Recruiter cost, what exclusive features do you get and whether it is worth the hefty price tag?
If you want to watch a quick video demo about LinkedIn Recruiter, check out this tutorial:
What is LinkedIn Recruiter?
LinkedIn Recruiter is a premium hiring tool from LinkedIn. It helps recruiters to connect with the best professionals in their niche fast. The platform comes with a list of features to make the talent search easier and faster.

As a recruiter on LinkedIn, you get access to personalized and bulk emails, candidate updated insights, search filters, and recommendations. All these tools allow you to find the most suitable candidate out of millions available in no time.
LinkedIn Recruiter's main features
1. Access 3rd degree LinkedIn connections
With LinkedIn Recruiter you will be able to contact 3rd-degree LinkedIn connections as well (this is not possible with LinkedIn Recruiter Lite).
2. Advanced LinkedIn InMail capabilities
InMail is a LinkedIn messaging tool that allows you to connect to chosen candidates even if you don't have their contact numbers.
You get access to both personalized and bulk InMail messages. The bulk ones allow you to reach out to multiple candidates at once. It saves you plenty of time on writing personal messages to each and every professional that sparked your interest.
3. Advanced search filters
Recruiter provides advanced search filters that narrow down your search to a couple of candidates in seconds.
You just set the filters according to your needs and let the LinkedIn search engine find the right candidates. Some of the most useful filters include location, fields of study, degrees, languages spoken, years in current position, job titles, and "open to work" status.
4. Get smart recommendations
As you use the same filters over and over, LinkedIn Recruiter understands who you are looking for and sends you recommended matches on daily basis. Recommendations come as a response to your previous searches. They are not the results of a new search.
4. Team collaboration features
The service gives you the chance to collaborate with your teammates and clients on a large scale. You can share candidate profiles with them and work together on assessing the candidate's skills and suitability for the role.
LinkedIn Recruiter cost
The cost of a LinkedIn Recruiter depends on several factors such as the number of licenses purchased and whether you choose a monthly or yearly subscription.
On average, the cost of a full LinkedIn Recruiter package is about $8.000 per year. While it may seem a lot, the advanced recruiting tools are sure to provide a maximum return on your investment.
Each LinkedIn Recruiter feature has a role in bringing you closer to the best professionals in the field. The more skilled and experienced the people you hire are, the higher revenue your company will generate. So be sure that the hefty pricing of the LinkedIn Recruiter service will pay off.
If you represent a small recruiting agency with 2 or 3 recruiters, you can choose LinkedIn Recruiter Lite. The yearly cost of the service is about $1400.
How you can purchase LinkedIn Recruiter?
If you want to purchase LinkedIn Recruiter, you first have to take a demo of the LinkedIn Recruiter.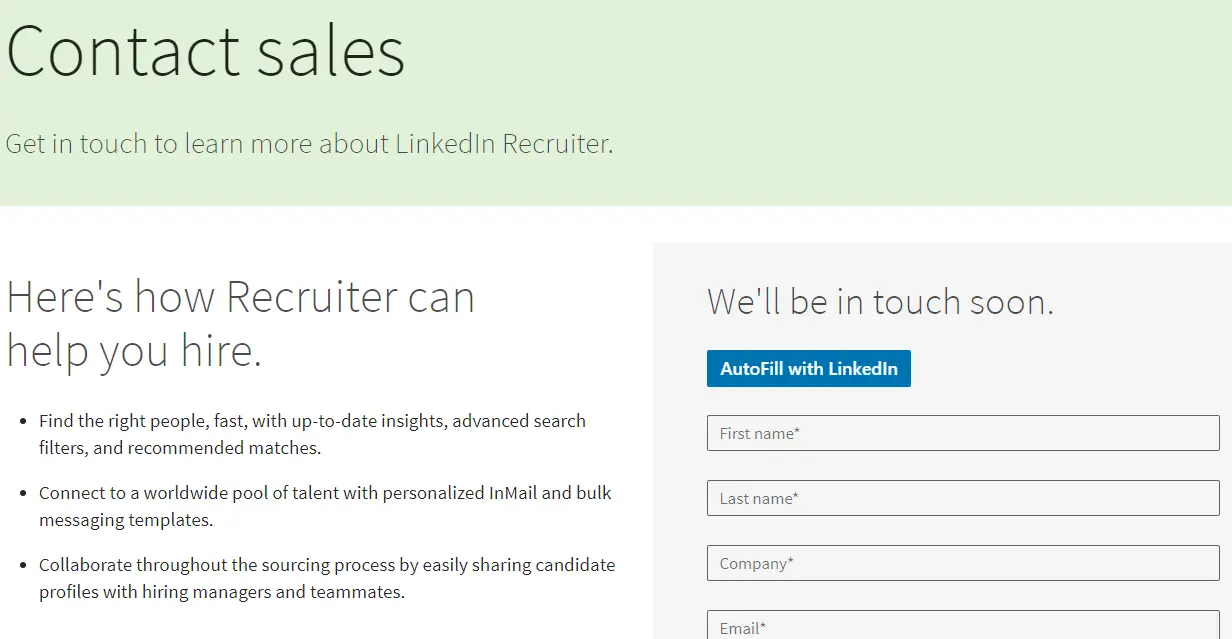 They will analyze your needs and come up with a personalized solution for your business.
LinkedIn Recruiter Lite is a lightweight and a cheaper version of the LinkedIn Recruiter. It provides fewer recruiting resources and excludes the team collaboration benefits. Here are the main differences between the two services.
1. Search filters
While full Recruiter offers 40+ search filters, Recruiter Lite users have access only to 20+ filters. Nonetheless, it's a significant help in finding top talents in the huge LinkedIn community of 700 million professionals.
2. InMail
Recruiter Lite allows you to create and send 30 InMail messages per month, compared to 150 granted by full Recruiter. If you work for a small company that looks for 2-3 new employees, 30 mails may suffice. A large recruiting agency, though, requires more communication opportunities.
3. Collaboration features
Recruiter Lite removes the collaboration features for obvious reasons. It is designed for small recruiting agencies where 1 or 2 recruiters work. They don't need to share projects with peer recruiters from the same company and coordinate their actions with the hiring manager.
4. Price
The cost of an annual Recruiter Lite package revolves around $1400. It makes it a favorite among many recruiters given the stark contrast with the hefty cost of the full package.
For a more detailed comparison, check out this post:
Is LinkedIn Recruiter worth it?
As we have explained in the LinkedIn Recruiter pricing section, LinkedIn Recruiter is not a cheap LinkedIn HR service. So for the majority of small and medium-sized businesses, LinkedIn Recruiter Lite provides the necessary features for a better price so we would recommend going with the lite version of the service.
However, if you find that some of the exclusive LinkedIn Recruiter features are indispensable for your business and your company has the HR budget for it, you won't regret purchasing a LinkedIn Recruiter subscription.
If you are unsure if you need to get LinkedIn recruiter, ask for the free demo of the service and the LinkedIn Recruiter sales team will most likely will be able to help you answer any questions or concerns you have.
Frequently Asked Questions – LinkedIn Recruiter Features
What are the advanced filters available in LinkedIn Recruiter?
LinkedIn Recruiter offers over 40 advanced filters to narrow down your candidate search. These filters include job titles, locations, and skills, among others. You can also save your custom filters to make your future searches faster.
What is the Recommended Matches feature in LinkedIn Recruiter?
The Recommended Matches feature in LinkedIn Recruiter automatically surfaces hidden talent based on your open roles. You get tailored candidate recommendations and can expand your talent pool with people you might have otherwise missed. This feature can save time in Recruiter searches, and candidates found through Recommended Matches are up to 35% more likely to accept InMails than candidates found through searches in Recruiter alone.
How does the Spotlights feature in LinkedIn Recruiter work?
The Spotlights feature in LinkedIn Recruiter helps you prioritize candidates by instantly identifying those who want to hear from you using the "Open to work" filter. Candidates found through Spotlights are up to 20% more likely to respond to InMails than those found through regular searches.
How can you optimize your candidate search using keywords and Boolean words in LinkedIn Recruiter? A: You can narrow or expand your keyword searches to find the exact profiles you're seeking in LinkedIn Recruiter. You can also use quotes and modifiers like "and" or "not" in search strings to focus your search even more.
Can you filter candidates by gender in LinkedIn Recruiter?
Yes, you can filter candidates by gender in LinkedIn Recruiter. The tool also notifies you when your search results are disproportionately male or female, and you can view the gender ratios of unbalanced searches. You can apply search filters that add more equal representation to your candidate pool to close gender gaps in your talent pool.
What is the InMail feature in LinkedIn Recruiter?
he InMail feature in LinkedIn Recruiter allows you to reach out to both active and passive candidates directly in Recruiter. You can send up to 150 InMails per Recruiter seat and personalize your messages using slide-in candidate profiles that provide more context to your conversation. InMails get a 300% higher response rate than regular emails that feature the same content.
How can you manage candidates more efficiently as a team using LinkedIn Recruiter?
You can boost your team's efficiency with projects in LinkedIn Recruiter by keeping candidate search results, applications, and other information in one place. You can also view your team's entire history with candidates in the Recruiting Activity feature to ensure your team doesn't duplicate steps. Lastly, the Collaborations feature allows you to seamlessly share candidate profiles with hiring managers or key stakeholders for feedback and grant free collaboration licenses to teammates who don't have Recruiter seats.
How can you use LinkedIn reporting and insights to improve your hiring strategy?
LinkedIn reporting and insights can help you improve your hiring strategy by providing visibility into all recruiting activity on your contract through the Usage Report.
You can also create unique reports that reflect your company's needs and segment them by teams, user locations, and other powerful filters to discover what's most relevant.
The InMail performance data reporting feature allows you to get visibility into your team's InMail send, acceptance, decline, and response rates, while the hiring funnel insights feature helps you gain insight across your hiring funnel to optimize your strategy.