As a recruiter, you would want your job to be a whole lot easier. That is where LinkedIn Recruiter Lite comes in. When you use LinkedIn for recruiting people to your company, LinkedIn Recruiter Lite can be beneficial and save you time and many. There is a good reason why many recruiters use it.
In this LinkedIn recruiting tutorial, we are going to cover the most important things you have to know about LinkedIn Recruiter Lite: its feature, the pricing of LinkedIn Recruiter Lite, how it compares to LinkedIn Recruiter and many more.
If you prefer to watch a video introduction on LinkedIn Recruiter Lite, check out this video from LinkedIn:
What is LinkedIn Recruiter Lite and how can it be beneficial?
LinkedIn Recruiter Lite is a paid LinkedIn recruiting tool that allows businesses to search for potential employees more effectively on the LinkedIn platform.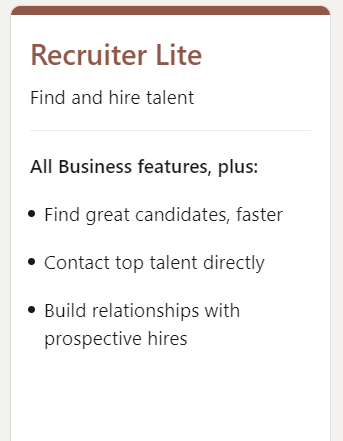 LinkedIn Recruiter Lite offers a limited number of features compared to the full LinkedIn Recruiter subscription, but it is a less expensive version of LinkedIn Recruiter so it might be more suitable for smaller companies.
The great thing about LinkedIn Recruiter Lite is that you can also purchase a monthly subscription, so you have to pay for it only if your company is actively hiring new employees. There is a 30-day free trial of LinkedIn Recruiter Lite that you might be eligible for.
Main LinkedIn Recruiter Lite Features Explained
One feature of LinkedIn Recruiter Lite is being able to see who viewed your profile.
If you are a recruiter then you would be able to see the applicants currently searching for a job.
With LinkedIn Recruiter Lite you can contact potential candidates directly with 30 LinkedIn InMail messages each month so you can reach out to the most qualified individuals and you can access your 2nd and 3rd-degree connections as well easily.
You won't even have to worry about getting limited to the number of profiles that you can view since you can view an unlimited LinkedIn account. After all, if you want to find the right candidate then you must be pretty patient as hiring the wrong individual can lead to serious circumstances somewhere down the road.
With a LinkedIn Recruiter Lite subscription, you will also be able to apply 20+ advanced search filters and send personalized outreach messages with saved templates.
If you purchase a LinkedIn Recruiter Lite subscription, you will be able to post jobs for free on LinkedIn and you can even promote them
Last but not least, LinkedIn Recruiter Lite will give you daily recommendations based on the job posts that you put up and they are all expected to be good ones.
LinkedIn Recruiter Lite Pricing 2022
The monthly cost of a LinkedIn recruiter Lite subscription is $140 per month in the US but can change based on the region you are in. You can save 2 months if you purchase an annual subscription to LinkedIn Recruiter Lite which is priced at $1400 per year.
In most cases, you will be also eligible for a 30-day free trial of LinkedIn Recruiter Lite, so you can try out the service for free and see it for yourself if LinkedIn Recruiter Lite is worth the money.
If you compare LinkedIn Recruiter Lite's pricing to the average annual salary of your employees and how much value they can create in the company, a $140 fee seems like nothing. You can not only save valuable time of your recruiters but also find a better candidate and have a higher return on investment on your hiring processes.
How to Purchase LinkedIn Recruiter Lite?
Here is how to sign up for a LinkedIn Recruiter Lite subscription:
Open this page: https://business.linkedin.com/talent-solutions/recruiter-lite
Scroll down to the bottom and click on 'Get Started'.
On the next page, you can review the features and monthly subscription price.
If you are eligible for a LinkedIn Recruiter free trial, click on 'Start my free month'.
Once the free trial expires, you can either cancel LinkedIn Recruiter Lite, or you have to start paying the monthly subscription fee of $140.
Main Differences Between LinkedIn Recruiter vs LinkedIn Recruiter Lite
LinkedIn Recruiter is a more powerful version of LinkedIn Recruiter Lite, and also a more expensive one. LinkedIn Recruiter is more targeted to a large enterprises, so you can't even purchase the subscription online, you have to talk to the LinkedIn sales team first.
In most cases, the features of LinkedIn Recruiter Lite are enough for most businesses. However, for instance, if you want to contact people beyond your 3rd-degree connection, you have to have a LinkedIn Recruiter subscription.
There are also a lot of other not that essential features that only LinkedIn Recruiter provides. You can check out the full list here.
For a full comparison of LinkedIn Recruiter and. LinkedIn Recruiter Lite, check out this tutorial: