When optimizing Facebook ad campaigns, one of the mistakes people make is that they don't pay enough attention to the images of the Facebook ads. Although many times this is the area where you can improve your eventual Facebook ads CPC and ROAS the most.
This is the reason why it is important to know Facebook ad image sizes, image aspect ratios and what the most ideal Facebook ad image specs for your Facebook ad image creatives are. Well-crafted images in the right resolutions can really boost up Facebook ads click through rates.
In this Facebook ad image size and specs guide, we are going to cover the following Facebook ad images:
Facebook ad image sizes and specs – some general thoughts
Facebook News Feed image ad sizes, aspect ratios, and image specs
Facebook Right column image ad sizes, aspect ratios and image specs
Facebook Instant Articles image ad sizes, aspect ratios and image specs
Facebook marketplace ad image sizes, aspect ratios, and image specs
Facebook Story ad image specs
Facebook search result ad image sizes and specs
Facebook Carousel ad image specs
Facebook Collection ad image sizes and specs
Facebook Messenger ad image sizes and specs
If you are interested in organic Facebook images or Instagram ad images, we don't cover them here in this article, check out the following tutorials instead:
Besides these Facebook ad image subtopics, we are also going to cover things such as the Facebook 20% rule as it is related to Facebook ad images.
At the end of this tutorial, we are also going to give you a very useful tip on how you can create awesome-looking Facebook ad images extremely quickly without knowing the right Facebook image aspect ratios and without having any kind of designer skills using Facebook image ad templates.
If you prefer
Facebook Ad image sizes and specs – some general thoughts
Generally, it is important to add that when you are running Facebook ads with image creatives, the best practice you should follow is to customize all ad images to have the ideal image resolution and aspect ratio for all Facebook ad placements.
However, if we lack the necessary resources, then it is worth optimizing for Facebook news feed image ads as this is the ad placement that will generate the highest Facebook ad impression numbers and can most likely contribute to most conversions on your website. For other placements, Facebook can automatically customize your uploaded images, which won't always lead to the most ideal image layout, but it is still better than not targeting those usually cheaper placements at all.
Facebook Feed ads – Image sizes, resolutions
As we have mentioned this is the Facebook ad placement that has the biggest ad inventory in Facebook ads so it is highly recommended to optimize the images for this placement if you don't want to customize your Facebook ad images for each Facebook ads placements.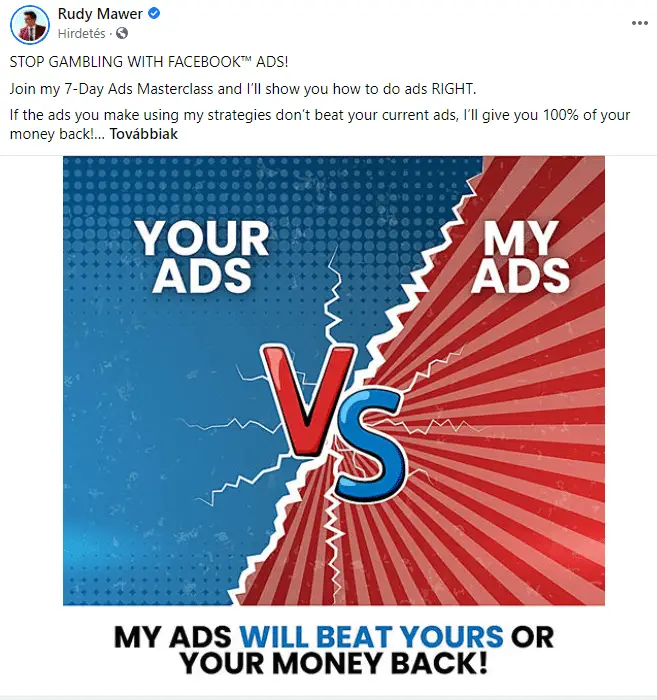 The official suggestion from Facebook for Facebook News Feed image ad is the 1080*1080 pixels, but at least you should upload an image of 600*600 pixels. The important thing you have to keep in mind that Facebook feed image ads should have an aspect ratio of 1:1 as this square format is the most ideal for these types of image ads.
Facebook Right Column Image Ad sizes and specs
Since the Facebook redesign that happened in 2020, the format of these FB right column ads have changed a little.
If you don't know, these are the image ads that appear in a smaller size compared to Facebook news feed ads, but as the user scrolls down on the Feed, they stick to the top so users can see them continuously.
These kinds of Facebook image ads only appear on desktop computers and Facebook recommends the 1.91:1 image aspect ratios. In terms of pixels, we should make our right column ad images in 1200*628 pixels if we want to have the ideal image size.
Facebook Instant Article image ad sizes and aspect ratio
One of the cheapest Facebook ad placement types on Facebook is the Instant Article image ad. As the name implies they appear in Instant Articles, so they are not as valuable as ads that appear in the Facebook or Instagram feed. For these reasons, the CPMs are relatively cheap.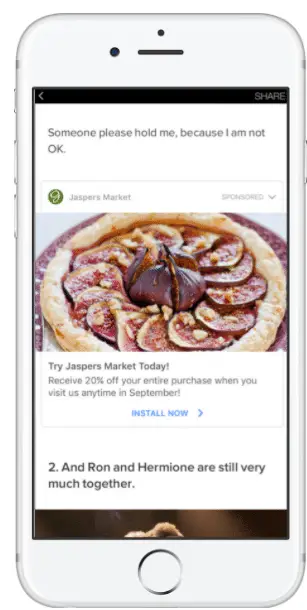 As you might know, Instant Article is a native format for publishers to create fast and interactive articles on Facebook.
If you decide to let Facebook place your ads in Instant Articles as well, then your ideal image aspect ratio should be 1.91:1 just like the aspect ratio we have suggested for  Facebook Right Columns Image ads.
Facebook Marketplace image ad sizes
Facebook Marketplace has really become one of the most popular tools on Facebook that many of its users use on a daily basis to look for or sell new and second-hand products. For this reason, it is a great placement to run advertising as the majority of people browsing the Facebook marketplace is already in buyer mode. It is especially recommended for e-commerce sites that sell lower-priced products.
If you want to have the ideal Facebook marketplace ad image size then the recommended image resolution is 1080*1080 pixels.
Facebook story ad image sizes and specs
Although Facebook stories are not that popular on Facebook as stories on Instagram, so you usually will get a lower number of impressions but as you can advertise there for lower CPMs we would definitely recommend also taking advantage of this Facebook ads placement.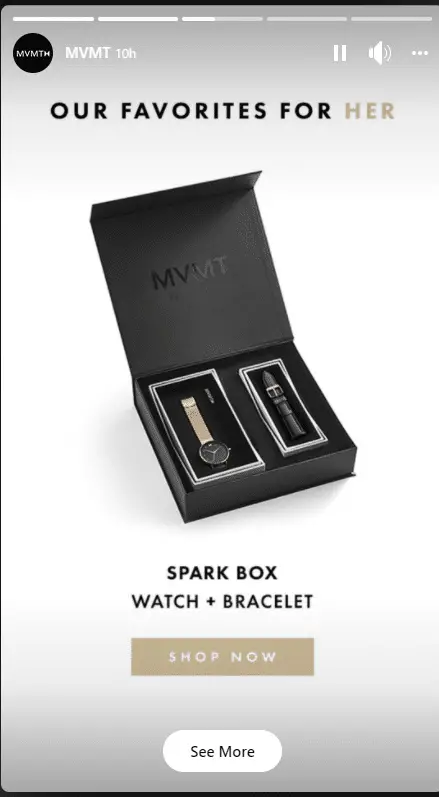 Facebook story ads can be especially effective for retargeting ads, so reaching potential customers who have already seen one of our video ads or have already visited our website.
As Facebook Story ads take up the whole screen of mobile phones, it is a best practice to leave the top and bottom 14% of the image free from any important text as they can be covered up by the CTA button.
The Facebook story image ads are horizontal images, they should be made in 9:16 image aspect ratio so you can make sure that Facebook won't cut any part of your ad image.
Facebook search result image ads
Many people don't know but Facebook can also show us Facebook ads when we use the Facebook search. Facebook search ads can be especially effective when someone searches for some product on Facebook and we run e-com ads on Facebook.
The ideal image aspect ratio is the same as the aspect ratio for right columns Facebook ads, so it is 1.91:1. In terms of pixels, the ideal image resolution is 1200*628.
Facebook Carousel Ad image sizes and specs
For e-commerce sellers, the Facebook Carousel ads can also work very effectively as you can promote more than 1 product in one Facebook ad placement.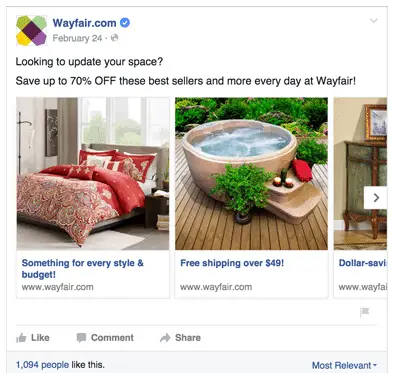 As Facebook Carousel Ad images appear in a square format, we would definitely recommend designing images with a 1:1 image aspect ratio and at least with a 1080*1080 image resolution.
As we have mentioned, these ad formats are great for e-commerce stores but can also work if you are sharing multiple blog posts in one Facebook post. Keep in mind when publishing the Carousel image ads that you can select the option that allows Facebook to show the most engaging images first in your carousel ad.
Facebook Collection ad image sizes and specs
Facebook Collections ads have been specifically developed for e-commerce stores selling physical products.
A Facebook collection ad is basically a cover image and a video followed by multiple product images and can lead to really high engagement compared to a simple image ad. When you click on the ad, then we get to an Instant Experience-like interface where the ad takes up the whole screen and we can browse multiple products at once.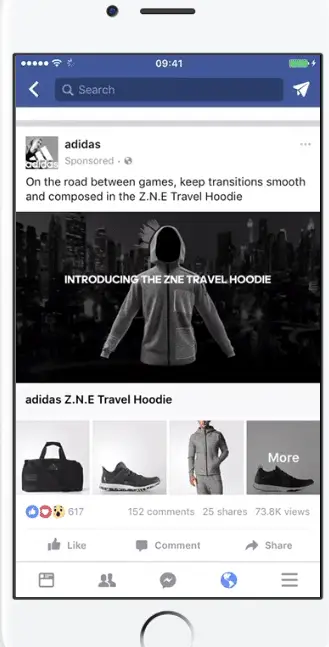 The cover photo of these Collection ads should have an aspect ratio of 1.91:1 and an image size of 1200*628 Pixels.
Facebook Messenger Image ad sizes and specs
Facebook Messenger has become the 2nd most popular messaging app in the world, so it is also worth running your Facebook ads in Messenger ad placements.
Facebook Messenger inbox image ad size and specs
This is the Messenger ad type that can get you the highest reach as it provides plenty of FB ad inventory. The ad takes up one conversation place from your Messenger conversations: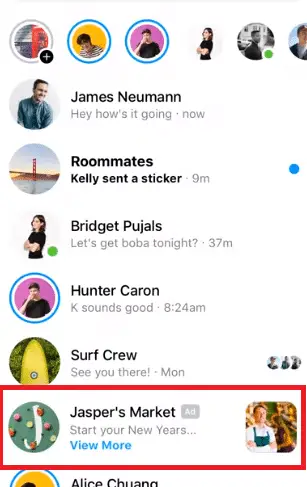 When you click on it, you get to see the full Messenger ad:
Facebook recommends having an image aspect ratio of 1:1 for these types of Inbox image ads.
Facebook Messenger Story ad sizes and specs
Just like on Facebook and Instagram, you can also see the Story ads in your Messenger app. These work the same way as on Facebook and Instagram, so if you click on them, they will take your whole mobile screen.
Regarding the image sizes and specs, the same applies to Messenger Story ads what we have already shared about Facebook Story ads. For image aspect ratio, 9:16 is recommended, and you shouldn't have anything important content on the top and the bottom of the Story ad. The Messenger Story ads will appear for 5 seconds at least, so you should only have a very short message or call to action on the image.
Other info related to Facebook image ad sizes and specs
Facebook 20% rule applied to image ads
Facebook used to have a so-called 20% rule that said that text in image ads shouldn't take up more than 20% of the image. This meant that if text took up more than 20% then Facebook restricted the reach of the particular image ad or it has simply rejected the advert.
However, Facebook has stopped following this rule, so there is no restriction on the amount of text you can have on your Facebook ad images. Of course, this doesn't mean that from now on you should cover up your images always with 100% text. Facebook claims that they see better performance for image ads that have less than 20% text on them (although we would be skeptical with this, we think this issue is more nuanced).
Whatever you think of the above debate about the 20% rule we would recommend always testing everything and measure which campaign and which target group reacts positively to which Facebook ad format and creative.
Designing Facebook images quickly without design skills
If you don't want to keep in mind all these different Facebook ad image specs then we would recommend you to try out the Canva.com image design and editing application. Canva provides many advantages, one of their best features is the ability to use templates.
Here you can also find a great video tutorial on how to resize your images for Facebook ads:
Templates help you to quickly modify a pre-made awesome template but they are also great as the templates are pre-made already in the right image resolutions and aspect ratios. So some of the Facebook ad image templates that you could use on Canva:
Canva Pro even has a feature that will help you to convert an image from a certain aspect ratio to another one quickly so you don't have to recreate Facebook image ads for different placements from scratch.
Facebook ad image sizes and specs – Summary
As Facebook keeps changing and modifying the aspect ratios and resolutions of ad images, it is always worth previewing image ads both on desktop preview and mobile preview mode, so we don't have to worry about the image not appearing in a format and layout as we have imagined.
And we would highlight it one more time, that it is not definitely worth preparing ad images separately for all Facebook ad placement types as Facebook has also become quite good in transforming a square image to other kinds of aspect ratios.