When you are uploading a YouTube video, you can choose a YouTube video category which can help YouTube to more easily find new audiences for a YouTube video.
In this YouTube video tutorial, we are going to cover everything you have to know about YouTube video categories.
List of YouTube video & Channel categories
Here is a list of YouTube video & channel categories currently available:
Autos & Vehicles
Comedy
Education
Entertainment
Film & Animation
Gaming
Howto & Style
Music
News & Politics
Nonprofits & Activism
People & Blogs
Pets & Animals
Science & Technology
Sports
Travel & Events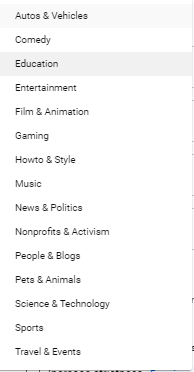 How to add a category to a YouTube video?
You can add categories to videos when you upload a new YouTube video to your YouTube channel.
Here is how to add a category to your YouTube videos:
Open YouTube Studio and sign in if necessary
In the top right corner, click on 'Create'
Select 'Upload videos'
Upload your video
Scroll down to the category section
Select the category of your video
If you have chosen 'Education' category, you have some more choices.
So this is how you can add a category to a YouTube video.
As you can see, if you choose 'Education' as YouTube video category, you have more choices to choose from:
YouTube video type:

Activity
Concept overview
How-to
Lecture
Problem walkthrough
Real life application
Science Experiment
Tips
Other

Academic system (country)
YouTube video education Level

None
Beginner
Intermediate
Advanced
Upper Secondary Education
11th Grade
12th Grade
Higher Education
Research
Career or technical
Other

Exam, course or standard
These are optional fields, but it might be worth adding them if you have an educational YouTube channel.
How to add category to YouTube channel?
Although you can't add a category to your YouTube channels, you can set an upload default video category to your YouTube channel.
This means that whenever you upload a new YouTube video, the default video category of the video will be always the same.
However, during the upload process, you can change the category to anything you want.
Here is how to add an upload default YouTube category:
Open up YouTube Studio
Click on Settings on the left sidebar
Select 'Upload defaults' on the left
Then click on the 'Advanced Settings' tab
Scroll down a little bit
Add a default YouTube video category
Click on 'Save'
Are YouTube video categories important?
Well, to be honest, video categories on YouTube are not so important. They might help YouTube in their recommendation algorithm but the impact is really low.
The YouTube algorithm is way more sophisticated when it comes to YouTube video recommendations.
However, as there is basically takes one click to set the YouTube video category, it is definitely a best practice to add a YouTube category to your videos.
Can you edit the video category of a video you have uploaded?
Yes, you can change a category of a YouTube video.
Here is how to edit the YouTube video category:
Open and sign in to YouTube video
Click on 'Content' on the left sidebar
Search for the video you want to edit the YouTube category of
Click on that video
Scroll down to Category
Modify to category to another YouTube category
Click on 'Save'.
For more details on this, check out our dedicated tutorial:
Related tutorials – YouTube categories
Here are some related tutorial you might find useful: