As we have already shown in another article, Facebook is currently the most popular social media platform in the world. But if we look beyond the user numbers, we can find some even more interesting Facebook statistics.
That's why we've collected some of the most recent Facebook statistics in this post. We have collected all the Facebook stats that are really interesting and related to Facebook. We have compiled all Facebook stats that are really interesting and related to Facebook in some way.
Since on ROIHacks we focus on information and tutorials related to Facebook ads, we have covered Facebook ads statistics in a separate article.
In this article, we will focus on the following Facebook statistics:
Facebook device stats: number of Facebook mobile vs desktop users
When is the busiest time on Facebook?
How much time do people spend on Facebook?
How many people use certain Facebook features and tools?
Facebook Statistics Highlights
Here are some of the important and interesting Facebook statistics every Facebook marketer should know:
1. The number of FB users exceeded 2.8 billion this year. (details in the linked article.)
2. Almost all users (98.3% of all users) also use Facebook on their mobile device, and 81% only use Facebook on a mobile device.
3. Although the average time spent on Facebook has decreased slightly in recent years, the average user still spends an average of 37 minutes on Facebook.
Facebook usage statistics
If you want to max out Facebook marketing, it's important to understand how FB users are using Facebook. So for instance on what device, what time and which features they use the most so you can post on your Facebook page and run your Facebook ads the most efficiently.
Facebook usage on mobile vs desktop
So, for example, when optimizing Facebook image sizes, it is important to take into account what devices the majority of users are using Facebook on. This will allow us to optimize for the screen size most people are using. Using data from Statista.com, we know the following:
Perhaps unsurprisingly, 98.3% of the 2.8 billion active users access Facebook on a mobile phone
81% of users only access Facebook on mobile, so 5 out of 4 people never log in to Facebook on a desktop computer!
Only 1.7% of Facebook users access Facebook from a desktop only.
17.3% of Facebook users log in on both desktop and mobile.
Facebook engagement statistics
Sproutsocial made a very interesting study on when you should post on Facebook based on social media engagement. Here are their main findings:
5. Wednesday 11 am to 2 pm is the time period when most people are on Facebook and they are most likely to engage with content
6. If we look at a larger time period, Tuesday morning to Thursday afternoon is the time period when we generally can expect the highest engagement.
7. On Monday people are not looking at Facebook that much, and Friday is also a pretty slow day from an engagement point of view. And of course, weekends should be avoided if we want to get the highest engagement when we post.
8. If we look at the time of day, the period between 5 PM and 7 AM is when Facebook engagement is the lowest.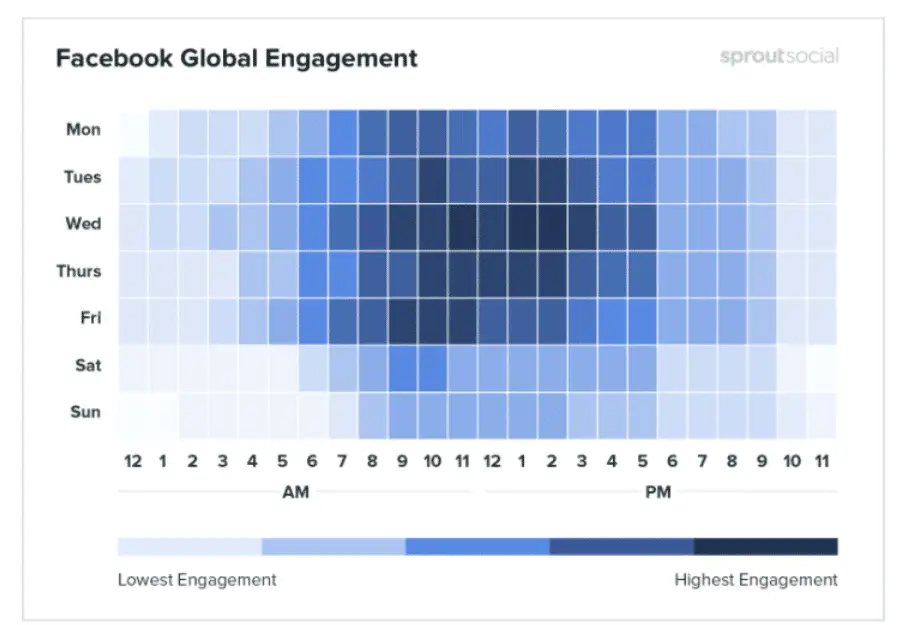 These Facebook usage statistics are particularly important for Facebook business pages so that they can schedule Facebook posts to go live when they can get the highest engagement and the best organic reach.
However, it's also important to note that the highest engagement time will vary from industry to industry. If you're trying to reach moms with your products, you might want to post most often during the afternoon nap time. If your target audience is college students, it may be better to post on Facebook in the late afternoon or evening.
Now, let's look at some Facebook statistics on how much time people use Facebook and what features they use the most.
How much time do people spend on Facebook?
9. According to eMarketer data, the average Facebook user spends 37 minutes a day on Facebook, which has shown a slight downward trend in recent years.
This is partly due to the rise of competitors (TikTok, Snapchat) and partly because other products in the Facebook family have cannibalized Facebook (Instagram and Messenger).
In addition, Facebook is also trying to maximize the quality of time spent on the platform (if we can believe their PR).
Facebook's newsfeed algorithm has been adapted accordingly in recent years, resulting in a decrease in the reach of business Facebook pages and an increase in the reach of Facebook groups and friends' posts.
10. However, Facebook still dominates the majority of time spent on social media platforms in the US, with the average US user spending an average of 1 hour and 15 minutes on some social media app or website per day.
This figure shows a rather stagnating trend in recent years, since it increased from 1 hour 2 minutes to 1 hour 15 minutes from 2015 to 2017, with no significant increase since then.
Facebook feature usage statistics
But what are Facebook users doing with all this time on Facebook? We've gathered some Facebook usage statistics to get a better idea of what Facebook users are doing on Facebook.
Facebook and news consumption
Perhaps it is no coincidence that there is so much political attention on who (banning politicians from Facebook) and what kind of information (fake news issues) can be shared on Facebook, and what kind of reach the Facebook newsfeed algorithm will eventually give these news posts. There are a lot of Facebook users who only get their daily news, or read news articles on or through Facebook.
11. According to a Reuters survey, 36% of people use Facebook to get their daily news dosage. This is significantly more than any other social media platform as YouTube is the second with 21% of people.
Facebook Group statistics
As we mentioned earlier in this article, a Facebook newsfeed algorithm change a few years ago resulted in Facebook groups getting a higher reach in the newsfeed.
12. According to the latest official statistics from Facebook, 1.8 billion of the 2.8 billion Facebook users use FB groups and there are tens of millions of active Facebook groups.
Facebook Story statistics
Building on the success of the Instagram Story format, Facebook has also introduced the Facebook Story format on Facebook.
13. While Stories on Facebook may not be as popular as on Instagram, according to the latest Facebook statistics, over 500 million people use Facebook Stories every day.
If you find that the reach of your Facebook page posts is decreasing, it is definitely recommended to share your post in Facebook Story as well. With FB stories you can still reach your fans quite easily since Story is not yet a very common post format, so the chances of your page follower encountering your content are much higher.
Sources of these Facebook statistics