If you use your Facebook profile for public reasons as well then it is a good idea to verify the Facebook profile so you can show that your profile is authentic and it is really you and get more social proof.
In this short a sweet tutorial, we are going to show how to verify a Facebook profile so you can go through the process and get yourself a nice verified badge icon next to your name.
What do you need to be able to have a verified Facebook account?
Not everyone can have a verified Facebook profile, you have to meet the following requirements if you want your Facebook profile to be verified:
Authentic: As it is a personal profile, you have to be behind the Facebook profile
Unique: Obviously you cannot create more than Facebook profiles. So a verified Facebook profile must be unique. (Although you can also create a Facebook page for yourself)
Complete: You have set up your Facebook profile properly. This means that you have to have a profile and cover photo
Notable: The personality your Facebook profile represents has to be well-known. Facebook qualifies you as notable if people search for your name or if you get featured in news sources regularly.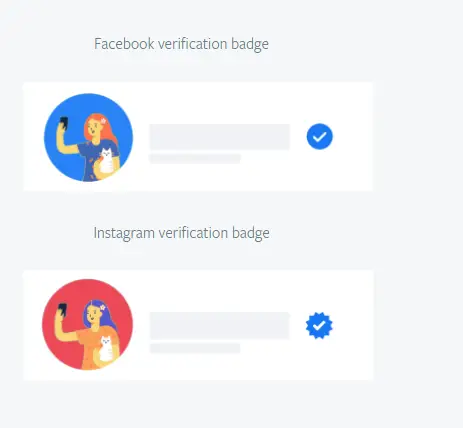 If you think you qualify for a verified profile, then here is how to do it.
How to verify a Facebook profile in 2021?
Here is how to verify a Facebook profile:
Open this Facebook profile verification form.
Select that you want to verify a Facebook profile
Enter the URL of your Facebook profile
Next, you need to upload an official document that shows that you are who your Facebook profile shows
Select the category of your Facebook profile that represents
Add the country or region where you are most popular
Audience (optional). Add who are the people who follow your Facebook profile
Also known as (optional). You can also list other names your personality is known as well.
Last but not least, add 5 articles that show that your Facebook profile is in the public interest. You cannot add promotional content.
Click on 'Send' button.
Once you submitted a form, Facebook will review your Facebook profile and if they think you are worthy of the verification, your Facebook profile will get verified.
Check out this video tutorial on how to verify your Facebook profile if you prefer a video tutorial:
Can't verify a Facebook profile
Here are the most common reasons why Facebook doesn't verify your Facebook profile.
Facebook deems that you are not a well-known and publicly recognized personality. There is nothing to do here but make sure you submitted the right articles that show that you are of public interest.
The information doesn't match up. If Facebook reviewers see different names on the documents you submitted and the news coverage you shared, they are most likely to reject your verification application.
If you want to verify your Facebook profile it helps if you have already a good number of followers. Let's say you don't have a lot of press coverage, but more than 100 000 people follow your Facebook profile, your Instagram business account or your Facebook page. This will definitely help you to get verified.
Verify other Facebook accounts
Keep in mind that you can also verify your Facebook Business Manager, your Instagram account, and your Facebook page. So if you didn't manage to verify your Facebook profile, you can try to verify these Facebook accounts.
You can find tutorials on these here: