Nowadays as it's hard to get significant reach on Facebook with unpaid, organic Facebook posts, it's even more important to know when to post  on Facebook, in addition to sharing the right content.
In this article, we will show you how to determine when it is best to post on Facebook and when it is also worthwhile to launch your Facebook ads. If you want to determine the ideal time to post your Instagram posts, you can also check out this article:
If you prefer a video explanation, check out the end of this post on what is the best time to post on Facebook.
Best time to post on Facebook (3 methods to find out)
There are three basic ways to determine when it's best to post on Facebook:
Based on industry research
Based on the performance of your own past Facebook posts
Based on knowledge of our own users, customers and fans
We will explain these methods in a bit more detail below.
Best time to publish on Facebook according to research
If you have no idea when to post on Facebook to achieve the highest reach and engagement, you can look at industry research that has looked at when Facebook business pages that were included in the study achieved the highest engagement with their posts.
What you need to know is that the freshness of content is no longer the most important factor in Facebook's newsfeed algorithm, although it still has some relevance. What is more important is the ability to publish Facebook posts that generate engagement (comments, reactions, shares) from our page followers.
In any case, according to a survey by Sproutsocial, the following are the best times to post on Facebook: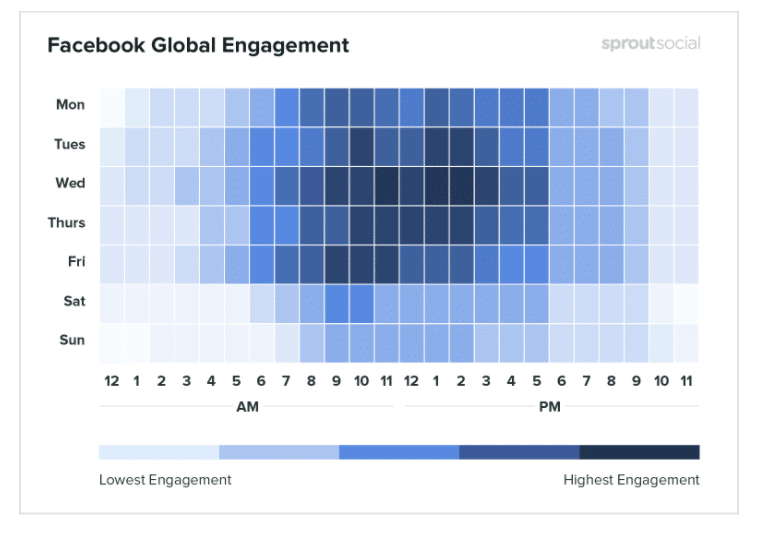 As you can see on the graph above, the best time to post on Facebook is on a Wednesday, and the ultimate best is between 11 am and 1 pm.
Obviously, since we don't want to post more than once a week, generally speaking, we can expect the highest engagement on our posts in the middle of the week, and the lowest engagement on weekends when people are not online that much.
If we look at times of the day, the research shows that the weekday period between 8 am and 3 pm is the best for FB posting, and the period before 7 am and after 5 pm should be avoided.
It's important to note that the above graph shows a broad average of all types of industries and niches, but of course, if you are not looking at a broad average but rather, say, industries, these best times to post on Facebook can vary significantly.
If you're also curious about the main industries, we recommend the original article by Sprotsocial, which shows by industry when it's best to post to Facebook based on their data, but they also share data on other social media apps.
Best time to publish Facebook posts based on our own Facebook page data
But even the industry research article is based on averages, so it's better to find out when you should post to Facebook based on your own Facebook page data.
Facebook will give us the information on the Insights sub-page of the Facebook business page to help us decide when to publish our Facebook posts based on the KPIs we consider most important.
We can access these reports on our Facebook page, and even export the detailed data to a spreadsheet.
Open the Facebook page whose results you want to see and analyze.
On the left column, click on 'Insights'
There are a number of ways to see here how we are doing in terms of reach and likes on any given day, but the best way is to click on 'Posts'.

Here we can see when our Facebook page fans are online most frequently, which is a piece of valuable information that can help us decide when to post.
You can aslo see when the post was published, the targeting, organic reach, paid reach, how many and what kind of reactions it received.
Based on these, you'll have a good idea of what is the best time to post on Facebook reach the highest organic Facebook reach and engagement.
Determine the most ideal publish time based on the knowledge of our target group and customers
If we do not have enough data yet to help us decide the best time to post on Facebook, it can also help if we have a good overall picture of the socio-demographic situation of our users and customers.
For example, if your main target group is college students or young adults, you may want to post to your Facebook page in the afternoon and evening rather than in early morning when they are either still asleep or more likely to be in class and less likely to engage with your posts.
However, if you are targeting mums with your content, the morning or early afternoon hours may be the best times to reach them, as they are more likely to be online than in the late afternoon or evening.
If you prefer a video explanation, check out this tutorial:
How to post to Facebook?
Once we have determined when it is the best time to post on Facebook, and once the FB post has been created, we just need to actually publish the Facebook post.
There are basically three ways to do this:
Be online at the exact moment and publish on Facebook
Schedule the posts on Facebook directly.
Use some kind of social media scheduler tool.
The advantage of methods 2 and 3 is that in those cases you don't have to be on Facebook every time you want to publish a Facebook post. You can just schedule all your FB posts for the week when you have the time to do so.
We have shown in this post how to schedule Facebook posts:
The advantage of using a 3rd party social media scheduler software is that you can control the social media content for of all your social media sites from one place, such as Twitter, LinkedIn, Pinterest, TikTok, Instagram, Facebook, etc.
Examples of such social media schedulers are Buffer, Later, Sproutsocial, to name just the most popular ones.