Facebook Retargeting campaigns are arguably the most profitable campaign types on Facebook. However, if you are a beginner Facebook advertiser you might be a little bit clueless about how to set up Facebook retargeting campaigns.
But don't you worry, in this quick guide we are going to show you the complete process of setting up a Facebook remarketing ad campaign and we are going to cover:
how to set up Facebook retargeting ad campaigns from scratch
how to create the necessary data for a FB Custom Audience
How to create the Facebook Custom Audience
How to add the Facebook Custom Audience to a Facebook ad campaign ad set
A complete step by step example of setting a website visitor retargeting campaign on Facebook. (if you are only interested in that, scroll to the second half of this article)
How to set up Facebook retargeting ad campaigns from scratch?
If we want to outline the process of Facebook retargeting ads setup we can divide the whole process into four distinct parts that are:
Create and set up the necessary data source for Facebook Custom Audience
Create the necessary Facebook Retargeting Ads
Set up the Campaigns with your Custom Audiences and Retargeting Creatives
First, we are going to explain all these steps one by one then after that, we are going to show you a step by step process of setting a Facebook retargeting ad campaign targeting our website visitors.
Set up Facebook Retargeting Ads #1: Create the right data source
If you want to retarget people on Facebook or on  Instagram who engaged with your products or your brand, you can do that by creating a Facebook Custom Audience that can be used as a targeting option in the ad set level of a Facebook ad campaign.
For most Facebook Custom Audiences, you need to first create the data source that you can then use as the basis of the Custom Audience. The only exception is Engagement Custom Audiences where you don't have to create the data source separately as Facebook already collects the data.
In the cases of the other three main types of Facebook Custom Audiences, which are uploaded customer list data, Facebook Pixel data, and Facebook SDK data, you first have to create and then set up the data source, then you can use the data sources to make Custom Audiences out of them.
Set up Facebook Retargeting Ads #2: Create the Facebook Custom Audience
As soon as you created the necessary data sources, you can start making Custom Audiences.
You can customize Facebook Custom Audiences in many ways and especially when you create Facebook Pixel Custom Audiences.
When you create FB Custom Audience from Standard or Custom Events, you can filter the events by using the events' object properties  (also called event parameters and values) that allow you to really focus on certain user actions on your website and only include people in the custom audience who completed that user action in a certain way.
Besides creating Custom Audiences from your Facebook Pixel data, you can also make Custom Audiences from Engagement data (such as Video Views, Shopping, Instagram and FB Page Engagers Custom Audiences), from uploading a customer list from your backend system or e-mail software, or from your mobile app Facebook SDK data.
If you are not sure how to create these FB Custom Audiences, definitely check out our articles on the topic.
In the second half of this article, we will also show you how to create the most basic and most simple Facebook Pixel Custom Audience as well.
Set Up Facebook Retargeting Ads #3: Create the FB retargeting ads creatives
You can set up plenty of laser-focused Custom Audiences, if you don't pay attention to this one step, your Facebook retargeting ad campaigns won't reach their full ROAS potential.
Creating the right ad creatives is a crucial part of successful Facebook retargeting ad campaigns set up. As the users have already interacted with your brand or products, you have to find the right angles on how you can grab their attention once again and drive them closer to conversion.
Another great way to find retargeting ads ideas is to spy on what your competitors or other successful advertisers do in terms of Facebook retargeting. To see how you can do that, check out our article on finding great Facebook retargeting ads examples.
As a general best practice always test new creative formats, ad copies, messages, and angles and have at least 3 ad creatives per retargeting ad sets so Facebook can optimize your FB retargeting campaigns better.
Facebook Retargeting Ads setup #4: Set up the retargeting campaigns on Facebook
Once you created your relevant Facebook retargeting ad creatives and set up your Facebook Custom Audiences, the only thing that is left to do is putting everything together and to set up Facebook retargeting ad campaigns.
There isn't really much difference between setting up a regular Facebook ad campaign from creating a Facebook retargeting ad campaign.
The one big difference is that at the ad set level, as when you set up Facebook retargeting ad campaigns you must absolutely use the Custom Audience targeting option as then you can target your retargeting audiences only.
How to set up a Facebook website retargeting campaign based on Pixel data?
As the most frequent retargeting campaign type is based on your Pixel website data, we are going to show you an example step by step of how you can set up Facebook retargeting ad campaign that is targeting all website visitors.
1.      Create and install the Facebook Pixel
As the Facebook Pixel creation, installation and setup is a quite long process in itself, we don't include that in our guide, if you are interested in the process check out these guides:
2.      Making the necessary Custom Audiences
As your Facebook Pixel started to track your website visitors, you can create your Website Custom Audience that will include all website visitors:
Navigate to the Audiences page from your Business Manager or by clicking on this link.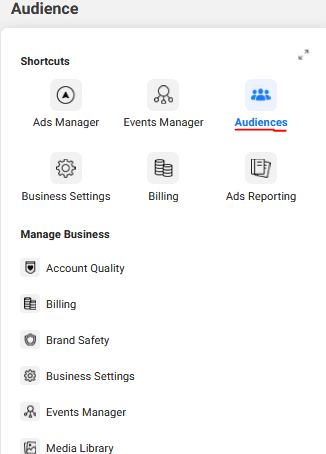 Click on 'Create Audience' then Custom Audience

In this window, we have to select the source of our Custom Audience, choose 'Website'
Now we will be able to exactly define the conditions of your Facebook Custom Audience. As we will create the most basic kind of Custom Audience, we can leave all default settings as is.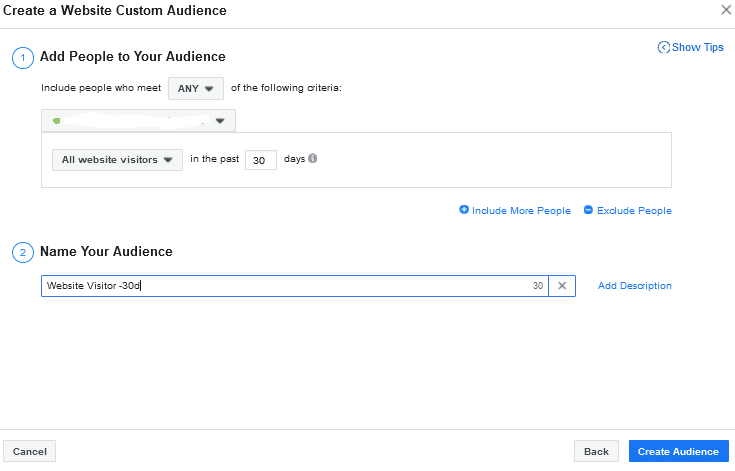 5. The only thing that we will change is the number of days. We will change it to seven days, so this Custom Audience will include all users who have been on the website in the last 7 days.
6. We add a name to the Audience and a description if we want to and save the Custom Audience by clicking on the 'Create Audience' button
As we want to have at least two Facebook ad sets in our campaign, we will make a second Pixel Custom Audience with all the same settings except one. We will change the number of days to 30, so we will also have a Facebook Custom Audience that will keep users in our audience for a longer time.
Also by creating two ad sets, Facebook can also better allocate our budget based on performance if we are using campaign budget optimization.
3.     Create the necessary Facebook Retargeting Ads
Now we have to create the retargeting ad creatives that the user will see when he or she is scrolling through her Instagram or Facebook feed. (and other Facebook placements)
The biggest mistake that beginner advertisers make is that they use the same ad creatives for their retargeting campaigns as the ones they used for their cold campaigns.
But don't forget, with the retargeting ads, our goal is not just to remind the user of our offer but also to have at least one more chance to convince her that she has to purchase our products or services. And as different users react positively to different offers, we should create at least two different ad creatives that have two different messages.
Some of these retargeting strategies are:
providing social proof (showing influencers, celebrities using the product)
testimonials (reviews of regular users, customers)
increasing urgency (supplies are low)
Discount or providing something free (e.g. shipping)
Eliminating risk (money-back guarantee)
To create the ads, you can use free online image editing software like Canva where you can customize a lot of great templates without any skill of web design.
4.      Set up the Facebook retargeting ad campaigns
Now, we are ready to put it all together and set up Facebook retargeting campaigns. We will show the complete process step by step with screenshots in the next section.
Set up Facebook Retargeting Ad Campaign – Complete process step by step
We will break down this into three parts of the FB campaign creation process, so first, we will show how we would set up our Facebook retargeting campaign, then our retargeting ad sets and ads.
At the end, we will also show how you can quicken up the Facebook campaign setup process by using the duplication feature in the Facebook campaign creation tool.
Facebook Retargeting Campaign setup
In the campaign setup section, you have to select the campaign objective you want to have for your campaign and whether you want to have your budget optimized at the campaign or at the ad set level.
Regarding the campaign objective, in most cases, we would suggest choosing the Conversions objective as the campaign type, as  our goal with retargeting ad campaigns is usually to convert our warm and hot audiences.
One thing you can experiment with if you have really small audiences is to use the Reach campaign objective instead of the Conversion objective. With this campaign objective Facebook won't focus on whether the user is likely to convert its main goal will be to show the ads to as many people of your audience as it is capable of.
Secondly, we have to choose whether we want Facebook to optimize our budget at the campaign or the ad set level. If we have many audiences and the size of the audiences is not too small then we would suggest you to choose campaign budget optimization (CBO).
CBO means that Facebook will allocate the budget to the ad sets based on performance, so it will spend more if an ad set is driving more conversions and spend less on FB ad sets that are underperforming.
Facebook Retargeting Ad Sets setup
Next, we have to set up our Facebook ad sets that will determine to which audiences will see our ads and which Facebook ad platforms the ads will show up.
We won't get into all the details here (if you are interested in more, check out our FB ad set beginner guide),so we will only show how to add the Custom Audiences we have just created.
We have to scroll down to the Audiences section, and under Custom Audiences, we add the 'Website Visitors – 7 days' audience. In terms of location, age and gender, we don't want to segment it more, so we can leave everything as it is.
The only thing we want to change is to turn off Detailed Targeting Expansion. As then Facebook would also target people who are not part of our retargeting audience.
Facebook Remarketing Ads setup
As the last step, we add the retargeting ad creatives we have made in the previous sections. As this is a campaign where we focus on conversion, we definitely recommend you to add a CTA button like 'Shop now'.
Besides adding our ad creatives, we also have to add the ad copies to the ad. This is all the text that the user can see in our Facebook retargeting ad besides the ad creative. You can also experiment with different kinds of ad copies longer vs shorter, more focused on the call to action vs writing more about the products.
Once you added your ad creatives, don't forget to add UTM parameters to your retargeting campaign, so you can measure your results easier later in Google Analytics.
Duplicating Facebook Ads and Ad sets
As you remember, we have created more than just 1 ad and more than 1 ad set. If we have three ad sets and three ads then it would mean that we have to create 9 separate ads as all ads should be placed in all ad sets (and 3 times 3 equals 9).
Fortunately, we don't have to recreate all these 9 ads again from scratch as we can use the duplicate feature of Facebook. So once we have created a campaign with 1 ad set that has 1 ad in it. We go to the Facebook ad, select it and click on 'Duplicate' .
Here we only have to choose how many duplicates we want to have. Here we have to choose the number of ads we want to have in each ad sets. So if we want to have three ads in a Facebook ad set then we have to duplicate the ad two times.
After the duplication, all we have to do is to change the image and rename the name of the duplicated ads.
Once we are done with this, we have to go to our Facebook ad set, and duplicate that as well the same way we have duplicated our ads. As FB ad sets also include ads, it will also duplicate all of our ads as well, so if we select 2 as the number of copies of each ad set, we will have 3 ad sets and as all ad sets will have 3 ads in it, we will get 9 ads we wanted to create.
And again, here we only have to change the targeting of the duplicated ad sets, we can leave everything as is and publich the ad sets.
So, this is the way how we can save a ton of time and still create the ideal structure for a Facebook retargeting campaign.
Excluding converters from retargeting campaigns
One additional thing you can do is to exclude converted users from your targeting. This is a best practice worth following as then you wouldn't waste budget on people who already purchased the product and more importantly you wouldn't annoy them with continuous advertising of a product they have already purchased.
This can be even more important when you are selling physical products that have a long shipping  time (e.g. when you are drop-shipping).
To exclude converted users, first, you have to create a Facebook Custom Audience from the Converted users if you haven't done so. If it is an e-commerce website, you would create a Purchasers Custom Audience, if you are only collecting leads, it would be a Lead Custom Audience.
The process of creating this Custom Audience is almost the same as the one we created for all website visitors. The only difference is that you would add the Purchase (the Lead or other Conversion event) as the Pixel Event.
Then you would place this Custom Audience on the ad set level of the Facebook campaign creation process like so:
Of course, this is only recommended when you are promoting one product and it is not likely that the user would buy an upsell from you right after purchase.
How to do Facebook Retargeting Ads – Summary
So basically that is the easiest kind of retargeting campaign type that you can create in Facebook to promote your products to people who are already familiar with your brand or products.
If you got stuck during the implementation, or you want to get our done-for-service, where we can set up an evergreen remarketing campaign from scratch that will bring on consistent sales down the years (?), then definitely contact us here.